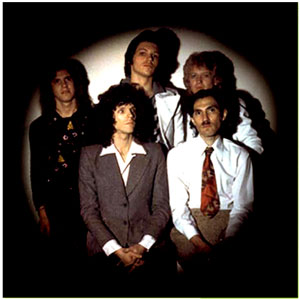 I have to say I am partial to a good lyric myself, being a lifelong Sparks fan - how could I not be?(My favourite Sparks lyrics later).
However, there is another more philosophical path to musical enjoyment - just open your ears to everything and let it all seep in and bounce and sway along. Does it matter that you can't quite get through the voice decoders of your favourite death metal band? They do use some fancy equipment don't they? Otherwise they would have ever such sore throats the next morning.
Does it matter that Sigur Ros are not only not singing in Icelandic, but in a completely made up language - as long as you get the dreamy haunted quality of their sound? ( Icelandic/Invented - doesn't really matter much to non Icelandic's does it? )
Does it matter that you haven't a blooming clue what The Kings of Leon were singing or talking about at Glastonbury last week, because - overall it still sounded pretty amazing?
I think the answer is sometimes, it doesn't matter. It really doesn't. But if you were really showcasing your band and your songs, wouldn't you want the audience to catch all the nuances that you thought you wrote into it? Wouldn't you want them to laugh when you were being funny, sob when you were being mournful, dance when you perhaps issued dancing instructions?
Now, there can be lots of different reasons why the audience aren't picking out your lyrics:
a. they are Icelandic.
b. your PA is really pants.
c. you are not ENUNCIATING PROPERLY DARLING! (said like that shouty actorly bloke with the beard - oh yes, Brian Blessed.)
But I do know one thing that will help you to be better understood. Talk to the audience more, lead them into your song, tell them what it is about.
James from Panda Lasagne did a brilliant job of this at our last fundraiser, and as a consequence he had the audience laughing along with him. Then he surprised them all with a poignant song about his dad, who isn't well at the moment.
He connected with the audience. Ok, some of his lyrics were about dog poo, but Panda Lasagne are a great live band to watch because they interact with the audience.
Ditto the fabulous Forefathers. If Steve wants to attract the audience's attention - then he thinks of a way to do it - immediately and brilliantly. Ok, sometimes he gets his knob out, but everybody at this stage is listening very intently. Hopefully.
As you all know our November weekend of gigs is fast approaching, and maybe the audience there won't be straining for every word as they might at one of our Fundraisers, but this still doesn't mean you can't lead them into it. It is prescious to you, and you wrote those words for a reason. They make the difference between the song you've just done, and the one you're about to do next. Let's hear it for THE LYRICS!
So to one of my favourite Sparks lyrics, which comes from a song about a suicide pact. In it the boy goes first as in the Romeo and Juliette story - the girl changes her mind!
Clck on the mp3 player here to hear the song. You can even sing along with the lyrics! You'll have to be quick though. The singing comes in immediately!
SPARKS

Here In Heaven
lyrics by Ron Mael

Here, there are lots of things to do
And a panoramic view
Of the universe completely surrounding you
And here you cannot buy souvenirs
You're never going back, never, never
Basically, I guess it could be worse
Yes, I do suppose it could be worse
Here, there are many, many sheep
And the people only sleep
And awake to tell how gory and gruesome was their end
And I don't have many friends
And it's really very clean and I'm thinking
Juliet, you broke our little pact
Juliet, I'm never coming back
Chorus:Up here in Heaven without you
I'm here in Heaven without you
Up here in Heaven without you
It is Hell knowing that your health will keep you out of here
For years and years and years
(my favourite line! He is in Heaven - but he is in hell! ha ha)
Dear, do you often think of me
As you overlook the sea
Do I qualify as dearly departed or am I
That sucker in the sky
The fall guy for the first and the last time
Juliet, I thought we had agreed
Now I know why you let me take the lead
Chorus:Up here in Heaven without you
I'm here in Heaven without you
Up here in Heaven without you
It is Hell knowing that your health will keep you out of here
For years and years and years
Second thoughts, is that what you had?
Second thoughts, first I broke my back
Second thoughts, as I hit the sea
Second thoughts, for eternity, for eternity, for eternity...
Feel free to chip in with any comments about the lyrics you're most proud of, or the ones that have most inspired you.
This post was written by Whitbynowsec